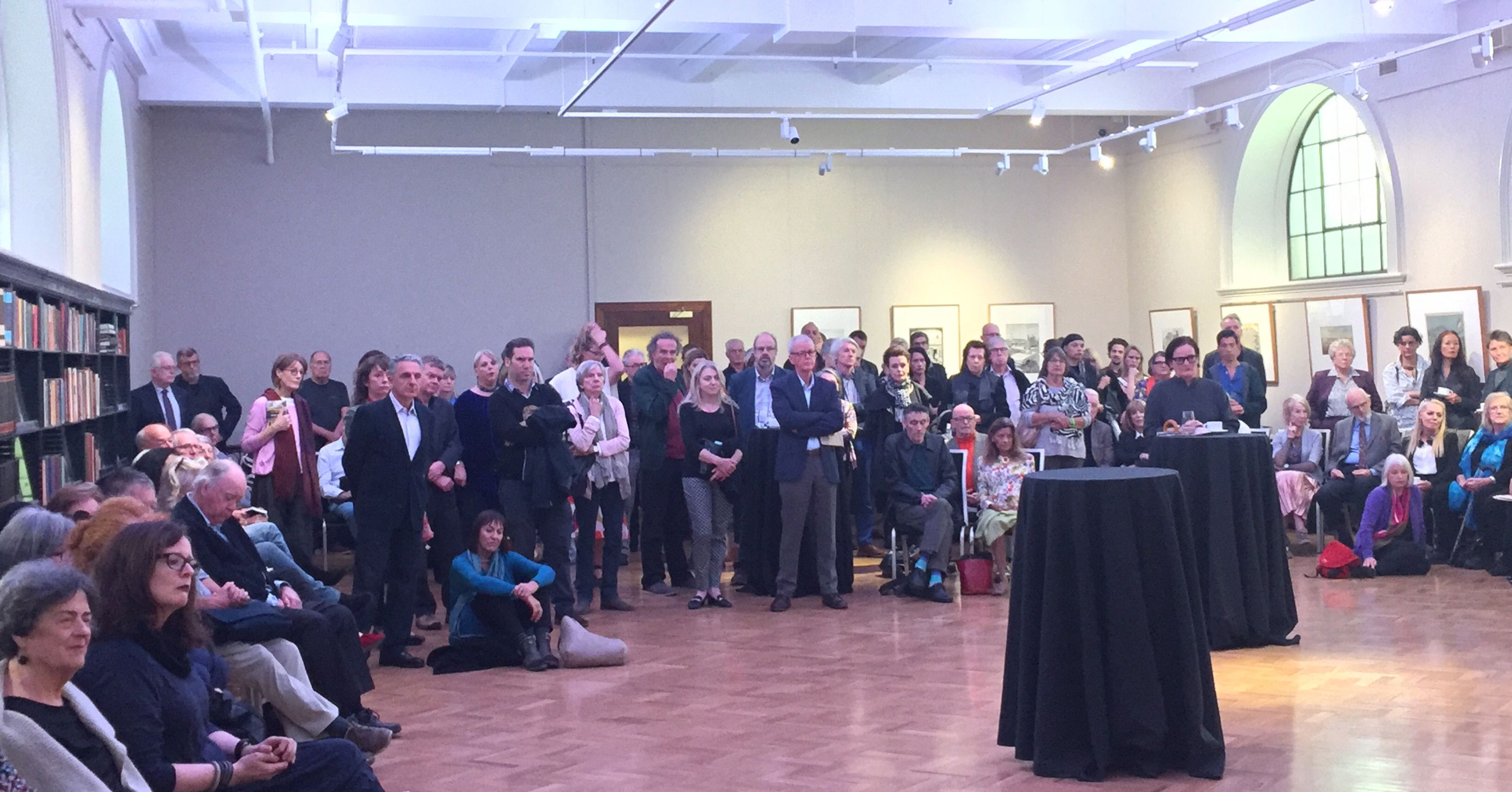 Culture Heist has had a huge response from readers. "Cheers are going up around the country," said one museum professional, "as people listen to what you're saying." The COVID pandemic has made the issues raised more urgent than ever.
Here's how it went when the book was launched back in 2017:
April 26 – At Better Read Than Dead, Newtown, owners Pat Corrigan and Terry Greer start the ball rolling by hosting an intimate event with popular lecturer Dr Christopher Hartney in conversation with the author.
April 27 – A vibrant discussion at Potts Point Bookshop, Macleay Street with the irrepressible columnist and legal eagle Richard Ackland doing the honours in front of a packed crowd.
May 2 – A day for radio: a rollicking interview with Diana Simmonds and Suzi Whitehead on Eastside Radio's Arts Tuesday, then in the afternoon a half-hour chat with the genial James Valentine on ABC 702.
May 3 –  The official launch. An enthusiastic capacity crowd fill the Gallery Room at the NSW State Library to hear art critic John McDonald, in fine form, sets the book on its way with a stirring speech. He writes of the book in his blog: "A rallying point for those who are alarmed by the way art museums are being transformed into corporate entities that neglect their historical missions and their core constituencies – with the predictable disastrous results." An edited version of Judith White's speech can be read here on John Menadue's blog Pearls and Irritations. The State Library shop sold out of copies and re-ordered.
May 7 – Culture Heist joins the display of alumni publications at the Research Fair of the author's old Oxford college, Lady Margaret Hall, where she read history.
May 8 – Art lovers from the Tweed Shire and beyond brave a rainstorm to listen to Margot Anthony AM, a great arts patron, introduce the book to Northern Rivers readers at Boardwalk Books, Kingscliff. The Byron Echo reports that the book has "provoked an uproar in the arts scene", while the Tweed Daily News says it is "making waves across the nation's arts community" and "breaks the silence at the heart of our cultural institutions".
May 9 – A full 20-minute interview with Michael Cathcart on ABC Radio National's Books and Arts. It can be heard on podcast here. There's a local interview too, on ABC North Coast with Jo Shoebridge.
May 13 – An appreciative review by Patricia Anderson appears in The Weekend Australian's Review section. Two days later comes a thorough online review by Nolan specialist David Rainey, saying the book is "a call to arms, a catalyst to speed up a reaction. It should be read by all." Read his review in full here.
May 17 – An attentive Queensland audience at Avid Reader in Brisbane listens to journalist and author Matt Condon in a lively conversation with Judith White.
May 28 – A Sunday afternoon at the ANU's Drill Hall Gallery in Canberra, with director Terence Maloon, rounds off the launch tour. Terrific turnout of supportive art lovers, museum professionals and local citizens for a discussion in the beautiful exhibition space. It's a happy meeting of minds, in an ideal place: the Drill Hall under Maloon's direction exemplifies the high quality of curatorship that's at risk from the neoliberal agenda in many larger public institutions.
Need a copy of the book? Click here – or email admin@cultureheist.com.au for help finding a stockist near you.